This Mother's Day we wanted to talk about the joy we all get from doing things for our little ones and, in particular, some of my tips and tricks for making it easier and less stressful for everyone to get dressed in the morning.
From brushing a knotted ponytail to helping tiny fingers tie their shoes, the list of important daily tasks that mums are lucky enough to be involved in is long. One of my personal favourites to add to this list is the joy (and stress sometimes) involved in helping my children choose an outfit that makes them feel good about themselves.
I find that I often put more time and effort into choosing the perfect outfit for little ones than I do in choosing my own…which I'm usually still zipping up or buttoning as we rush out the door. It all started when they were tiny – baby boy onesies and jaunty little caps perched on my son's bald head for no functional reason or making unique dresses for my daughter to wear. Now that they're getting bigger and have some very serious opinions of their own, I involve them in the process by sitting together in front of our favourite kid's shopping websites and letting them choose their favourite pieces. Fun printed boys trousers are always a hit for Gabriel while Alessandra is all about the slogan tee these days.
At Velveteen, we work hard to make clothes for kids that encourage what we like to call "childhood with style." We pride ourselves in being a luxury kid's brand that is focused on continuous improvement in both our collections and our fashion sustainability practices. As a mother, this makes me feel even better about the pleasure I take from shopping for the kids.
As my son points out, Velveteen tries to remind everyone to "Refuse, reduce, reuse and recycle" our clothes…from turning last year's favourite summer dress into this season's favourite top to passing along our outgrown infant dungarees to friends and family.
I've been a designer and fashion enthusiast much longer than I've been a mom and I'm notoriously loyal to certain designers and brands that I know fit me well and deliver a style that reflects my personality – whether that's a pair of leather skinny jeans or a frill covered maxi dress.
I started adapting my own clothes when I was a teenager – transforming them into new styles or dying them to suit a new mood. When motherhood entered my life, I naturally started using these tried and true techniques on my children's wardrobes. At first, this was a practical exercise in saving money but as they've grown bigger and more aware of what they want to wear, it's also become the go-to method for not having to say goodbye to their favourite pieces.
Here are a few of my best tips to keeping your children's wardrobes in circulation and temper tantrums at bay:
Buy versatile classics and style them up and down – My favourite piece to style for boys and girls is a good quality denim or western style jacket. We've added embroidery to our Monti Jacket to make a fun statement and I add badges and pins for more interest. The trick is to layer them over unexpected pieces. Gabriel wears his over a hoodie and track pants in the winter or dresses it up with Bermuda shorts and a dress shirt for dinner out with Mummy. Alessandra layers hers over the Chanelle Maxi skirt and a Gigi striped tee shirt so she feels less 'fancy'.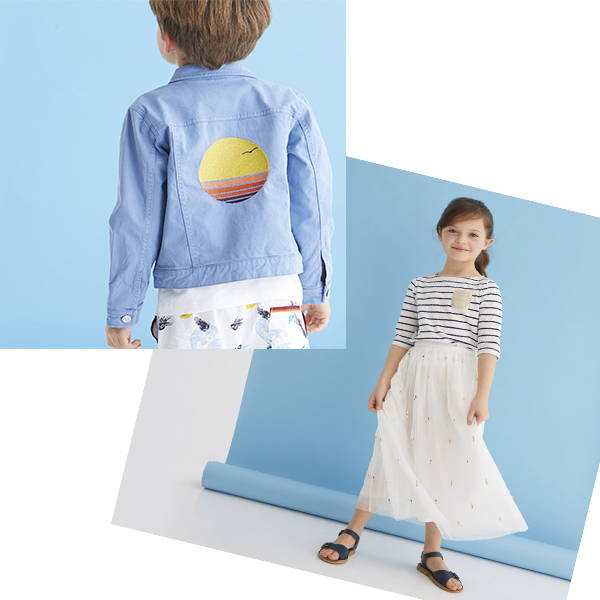 Buy long-lasting, high quality clothes that you can re-purpose or pass along – The beauty about buying high-quality clothes is that they will outlast your children so finding creative ways to re-purpose them is a great money-saving trick. That versatile denim jacket we mentioned above? The sleeves will eventually start to get too short so why not cut them off at the armholes and create a cool new vest? My daughter was obsessed with our Lexi Maxi dress from past seasons but has grown quite a bit in 2 years. To stave off a minor meltdown, I cut the length off at her hip-bone level and turned it into a fun tunic-style top that she now wears with skinny jeans.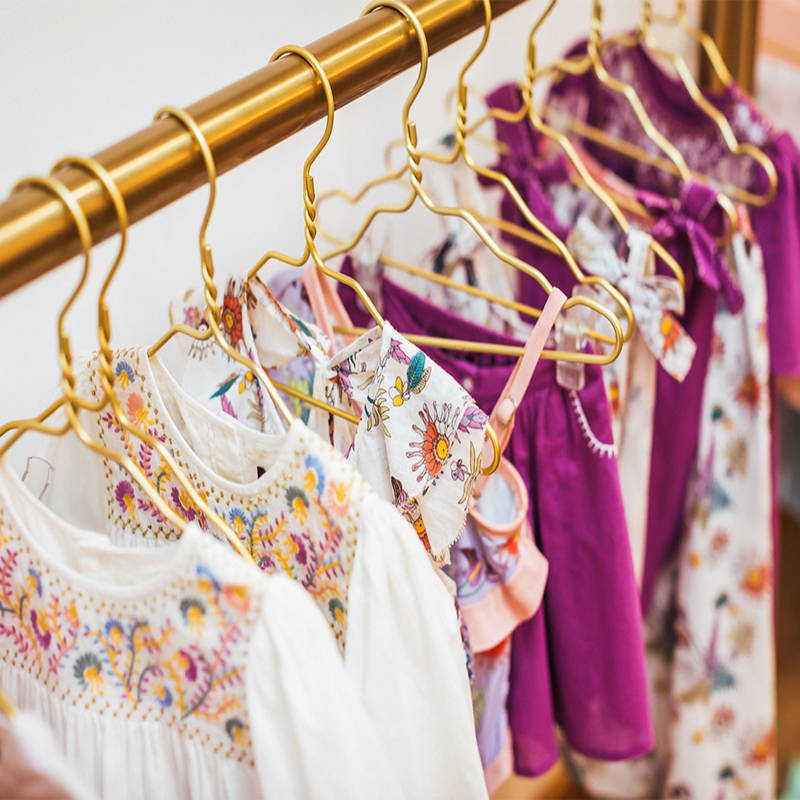 Involve your children in the process – A few years ago I stopped buying new wardrobes for the kids each season and started giving them a budget. I allocated a certain amount of money to each of them and mapped out which pieces they would need for the season – a new coat for winter, swimsuits for summer, shorts. Dresses, etc. Then I put together two choices (only two!) for each piece they needed so they kept track of how much they had spent and how much more they needed to buy. Choices had to be made but they were the ones to make them. An amazing thing happened in addition to their maths skills improving: they felt empowered and part of the process so they were more likely to wear what we bought. They also learned how to mix and match to create different outfits.

I realise not all mothers are luxury kids' fashion designers and so you might not want to spend as much time on this little project as I do but any amount of empowerment you can give your kids to make decisions and take responsibility for their choices is going to make dressing time a lot less stressful!

xx,
Laura, Creative Director